My Woodland Shade Garden
Backyard Woodland Shade plants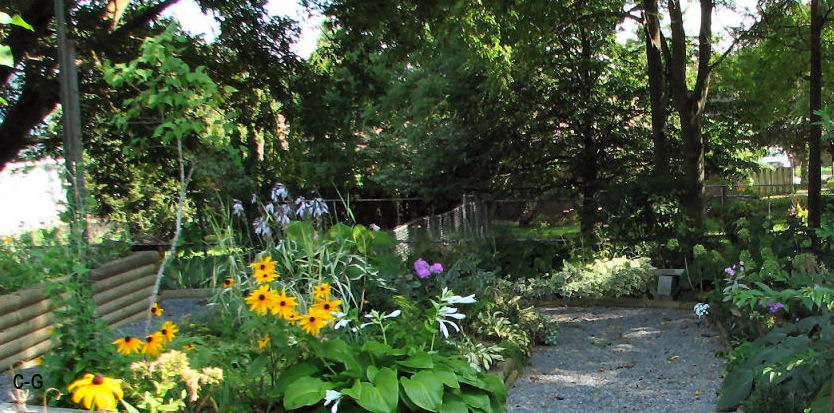 Backyard Woodland Garden
4 Shade Plants for a Woodland Garden that I like:
Trilliums
Jack in the Pulpit
I always wanted a corner in my yard to be a place to get close to nature. One problem is that when we bought this building lot it came with just lawn.
Over the years my neighbours' trees now give me more than enough shade and I am using this spot as a shade garden.
Now I want to convert this place into a naturalized backyard Woodland Garden with more plants that we would see in a natural woodland. I want to be able to close my eyes and see a forest, full of trees, ferns, plants and birds, with some native woodland flowers for colour so I can go for a "Nature Walk" in my own backyard :).
12+ Shade Loving Plants & Flowers that I'm using in Zone6:
Right now I have spring bulbs, because they bloom before the deciduous trees leaf-out in the spring, as well as lots of ferns, Japanese Forest Grass, Hostas, Annabelle Hydrangeas, Heucheras, Columbines, Bleeding Hearts, Primroses, Lamium, Phlox, Bleeding Heart, Lamium, Foxglove and Dwarf Irises as well. I also have variegated ground elder and it wants to take over the world.
For a pop of colour I use Impatiens and potted Geraniums.

My Shade Garden from borrowed trees:
Right now my woodland is from borrowed trees from the neighbours' gardens.
I planted the evergreens, but I'm looking for White Silver Birch and Japanese Maples. I have Japanese Dappled Willow shrub that I'm training it as standard already.
In the summer this is such a cool and calming spot.
My Woodland Shade Garden Trees and Shrubs:
My woodland garden borders are not very wide - maybe 8-10 feet.
However, I have squeezed in some evergreens, deciduous trees and boxwood for winter interest, the rest are bulbs and perennial plants.
Natural Garden Paths:
As for the garden paths, I chose curved gravel paths edged with wood. I would love to either have grass or mulch for my paths, but there is too much shade for grass and slugs love mulch and then the Slugs will eat most of my hostas. :)
In the fall the gravel paths are more work, because I can't really rake my leaves, but I just use a leaf blower and it keeps my paths nice and clean.
Whimsy in my woodland garden:
I really don't have that many. I collect rocks and wood logs from around the garden and let them grow moss naturally. I also have wood birdhouses and a chair to set my camera on. I am looking for a Wood Fairy to keep me company as well. :)
Picture of My Woodland in Winter

Woodland Shade Garden
Table of Contents
Garden Content
Table of Contents