News & Updates at canadian-gardening.ca :
With Gardening Tips for gardeners of all ages.
Gardener at Work!
I am either working on this website or in the garden.
If you've "AdBlocker Enabled" please kindly consider allowing my Ads to load on this website. Without the 'search engines' setting a cookie on your browser, it will only be you and me here. Which is "ok" sometimes. "smile" Thank You for being here!
Who We Are
Growing in Zone6A in Canada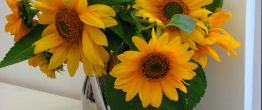 I am an enthusiastic gardening hobbyist who loves sharing our bountiful fresh produce with our neighbours and documenting my gardening endeavours with you.
After spending many years building websites ( since 1996 ) I think it's finally time to Retire and indulge in some of the activities that I love the most.
Aside from cultivating my garden, I also find immense pleasure in capturing its beauty through photography.
You may contact me at:
canadiangardening@augursw.net

What We Do
Grow Food, Flowers & Watch Nature
Thank you for stopping by!
Popular Pages
at Canadian Gardening