News & Updates at canadian-gardening.ca :
With Gardening Tips for gardeners of all ages.
Gardener at Work!
I am either working on this website or in the garden.

Come and join me on a journey of exploration of nature, the beauty of plants and the satisfaction of growing your own food.



If you've "AdBlocker Enabled" please kindly consider allowing my Ads to load on this website. Thank You for being here!
Who We Are
Growing in Zone6A in Canada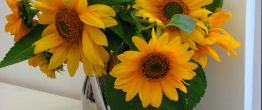 I am an enthusiastic gardening hobbyist who loves sharing our bountiful fresh produce with our neighbours and documenting my gardening endeavours with you.
After spending many years building websites ( since 1996 ) I think it's finally time to Retire and indulge in some of the activities that I love the most.
Aside from cultivating my garden, I also find immense pleasure in capturing its beauty through photography.
You may contact me at:
canadiangardening@augursw.net

What We Do
Grow Food, Flowers & Watch Nature
Thank you for stopping by!
Popular Pages
at Canadian Gardening