News & Updates at canadian-gardening.ca :
With an overview of Gardening Tips for gardeners of all ages.
Gardener at Work!
I am either working on this website or in the garden.
Come in and explore Nature, Beautiful Blooms & Plants.
My selection of vegetables, flowers and plants are perfect for Canadian gardens.
The plants tips and suggestions that are mentioned at canadian-gardening.ca are from my own experience, encyclopedia, library and my gardening books. Hope you can use it!

Who We Are
Growing in Zone6 in Canada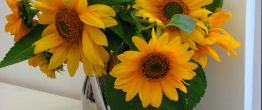 I am gardening hobbyist who loves sharing our fresh produce with our neighbours and my gardening endeavours with you.
I have been building websites since 1996 and I think it's time to Retire and do the things that I love doing the most.
I hope you find something that you can use and share canadian-gardening website with friends.
Thank You!

What We Do
Grow Food, Flowers & Watch Nature
Popular Pages
at Canadian Gardening