Gifts from the Garden
Gift suggestions for Gardeners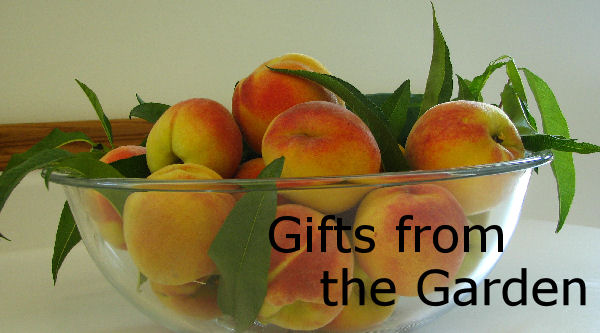 my Best Gifts from the Garden and gift ideas:
Right now ( April )I'm looking at my gravel path and I can see long sticky pinecones from my white pine tree. I'm visualizing pinecone wreaths, pinecone baskets, angels and peau pourri.
My half dead lavender I can see soaps, teas, handmade notepaper, greeting cards with dried flowers, sachets for linen drawers, heating pads with lavender and flax seed. Lavender Sachets for closets or just bunches of herbs tied up around the house. Everything else is pretty dead and not that good. :)

Food never goes to waste here. We share our fruit and produce with our neighbours and they are always grateful. The peaches in the picture we ate fresh, but I also made fruit cobblers, jam and froze some of the peaches whole. Thaw out the peaches during the winter and they were fresh, firm and tasted really good.
Gifts from the Garden
Table of Contents
Gardening
Table of Contents