Nature Watching with IP Cameras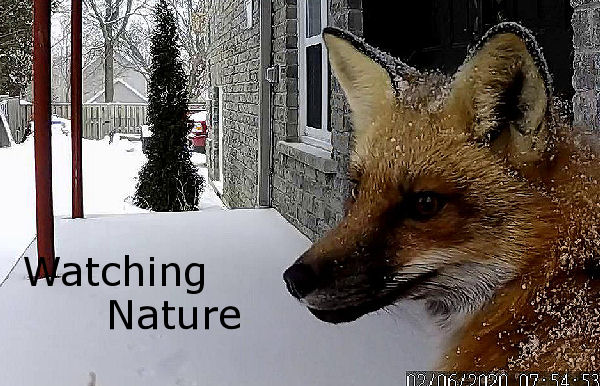 Watching Nature in Backyard
The best thing that I did just for me and my Mom, was to buy IP Surveillance Cameras.
Some of the pictures of the wildlife on this website were taken with the IP cameras.
The camera lens on the cameras are not that great, but it gives me an idea what I have missed.
What I love about having these cameras installed outside is that in the winter time I get to see the action outside while I'm coooking supper.

Do you use Apps to identify or keep track of Birds, Butterflies, Hummingbirds or Nature?
What are your best Apps To Record Nature Sightings?
I don't have a cell phone, but almost everyone that I know has one. Could you please share with us on Gardening Chat
Hummingbirds will be migrating North soon. I put my feeders out around May 1.
When do your vistors migrate South? Hummingbirds are usually gone by September and the rest of the Birds and Butterflies by October.

The Cons of having an IP Surveillance Camera?
I get to see "who ate what" while I was sleeping and I did nothing about it . :)
Birds - eat my grapes, seeds and berries.
Raccoons - eat my grapes and corn.
Bunnies - eat whatever they can reach.
Voles and Mice - eat my beets.
Chipmunks - eat my Peas and Berries.
Skunks - eat my corn.
Squirrels - they dig up and eat everything. That's how I know when my potatoes are ready.
Fox - they just walk all over and break everything.
We also have the most glorius Dragonflies and Damselflies. I'll see if I can find a picture.

This must be proof that I have created a Nature friendly habitat ... maybe a little bit too friendly. :(
Good thing that they are cute.