Cordless Power Tools for
Retirees & Seniors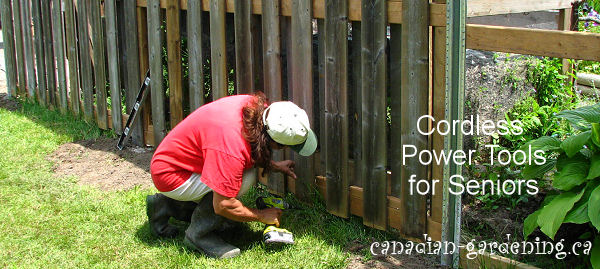 Cordless Gardening Power Tools for Seniors in the Yard:
Cordless tools & Equipment Needed To Make Gardening Easier.


When it comes to power tools for me to use they have to be:

Light or heavy enough - without breaking my wrist after an hour of use.
fits my hand
easy to use
easy to maintain and replace
safe to control if it binds while in use (low torque or variable torque)
18V tools are safer than most corded tools because they can be more easily controlled and do not have a tendancy to 'jump' if their cutting edge binds or jams ... many corded tools with higher torque can move suddenly with enough force to overcome the strength of your hand that is controlling the tool.
Corded and gas power tools that we already replaced with 18V cordless tools for the yard.
| Ryobi | Comment |
| --- | --- |
| Drill & Screwdriver | I couldn't live without them. I take them wherever I go in the yard and no cords |
| Impact Driver | Goes through wood like butter. |
| Stapler | Easy to use and does a good job for stapling hardware cloth to wood etc. |
| Pole Saw | Pole (8 inch chain) saw. We bought the pole extension as well, but with extension it makes the saw harder to use. It's wobbly and harder to control. I just use the saw without the extension. |
| Leaf Blower | Does a great job! |
| String Grass Trimmer | It's light duty, but it does the job on our small lawn. |
| Lawnmower | So much easier to use than our gas or electric mower. We only have maybe 800 sq. foot lawn area to mow. So this lawnmower turned out to be just what I was looking for. |
| One hand reciprocating saw | Very useful for pruning small branches that I can't manouver a chain saw in the space that I have. |
Next tools that I like to replace are:
Hedge Trimmer
Rototiller
Chain Saw
Snowblower ... this one may be difficult to find
The following content is written by someone that knows how to use tools. When we started building our home, we quickly found out that our handyman tools couldn't do the house building.
So, we started replacing most of our hand tools with 18V tools and are slowly fazing out all of the corded and gas power tools that we have. We are not affiliated with Ryobi nor Dewalt. We just happen to like their tools.
Corded and gas power tools that we already replaced with 18V cordless tools.
Home & Workshop Tools:
Ryobi, Ridgid & DeWalt 1/4 inch Impact Driver ... the Ridgid 3 speed version is my preferred version
Ryobi Stapler
Ryobi, Ridgid & DeWalt Circular Saws (several blade sizes) use smaller ones for safer operation on trim and plywood, larger ones for dimensional lumber
Ryobi Brad nailer
Ryobi Pex Crimper
Ryobi Jig (Sabre) Saw
Ridgid Two hand reciprocating saw
DeWalt Drywall Screwdrivers 18V

What brand has the most battery powered tools?
We have settled on Ryobi (from Home Depot) for most tasks. These generally have lower torque than our DeWalt tools and are both safer and easier to use because of this.
We also have DeWalt and Makita that we still use mostly for woodwork or construction related tasks. DeWalt drywall screwdriver works well, Ryobi version of the same tool was purchased because of price (returned now) but is useless because it will not reliably hold a drywall screw attached to the bit without using both hands.
Others that we bought and can no longer use because of inability to replace dead batteries are Skil, Mastercraft, Black & Decker, (Sears/Craftsman) Nextec 12V and Power Smith 7.2V (out of business now).

Is Ryobi a good brand?
Yes, although not the best for heavy duty construction type of work. Milwaukee or DeWalt are likely better for this kind of work, but require strong wrists to work safely.

What should I look for in a cordless power tool?
Two considerations are most important to us:
Battery expected life of more than 3 years / 400 recharge cycles (lithium not NiCd or NiMH) and available in multiple sizes

a) smaller sizes are best for tools used with only 1 hand to make them lighter, safer and easier to handle
b) larger sizes are best for tools like a cordless lawnmower that require more power and longer operating times

multiple tools for different functions, each tool dedicated to doing a specific task well instead of multi-function attachments for a general purpose tool (like drill attachments)
What voltage is best for cordless tools?
18V Lithium battery tools are adequate for nearly everything we need to do, some tools like a snowblower or lawnmower can benefit from higher voltage and capacity batteries (40V or over and 4AH or higher)
Are electric mowers powerful enough?
Most 40V and up work as well as a decent gas mower, some 18V mowers, like our Ryobi 16 inch two battery mower work well when lawn is dry ... a single battery version of the same mower did not have enough power to use the grass catcher and often had to be paused to let the motor get back up to speed.
Can I use cordless electric lawn mower on wet grass?
Only the 40V and higher versions.
How long does it take an electric lawn mower battery to charge?
18V 9AH Ryobi batteries we use on our dual battery mower each usually recharge from 50% to 100% within an hour. Mowing a 700 ~ 800 Sq ft lawn uses 25 ~ 50% of two 9AH batteries in about 20 ~ 30 minutes of operating time. 4AH batteries sometimes do not last long enough to finish mowing the lawn.
How long does Ryobi mower last?
Don't know yet ... but after 3 years it does appear that it will be at least a few more years, as long as we can get replacement batteries.
Do electric mowers cut thick grass?
Yes, you might have to walk slower ... the same as most gas mowers.
What is the life of an electric lawn mower
Not sure yet. Based on construction quality, amount of and type of moving parts we expect it to last longer than most gas mowers.

Written by: BPR
BPR is a collector of many different tools, but his favourite are woodworking tools. Wife says "he has more tools than Canadian Tire, Busy Bee Tools, Homedepot and Lowes". Now, when the kids are looking for tools, they phone home first.

Growing Food
Table of Contents