Spring Bulbs growing Indoors during winter time.
Forcing Spring Bulbs Instructions:
Spring Bulbs that I have used:
Daffodils
Tulips
Paperwhites
Crocuses
Amaryllis
Hyacinths
The bulbs that did best for me:
Amaryllis and Hyacinths
This is the third time I forced spring bulbs to bloom indoors.
The first couple of times - it just grew leaves, when my Mom was getting tons of flowers. With a little encouragement from my Mom, I tried it again this year.

Here's what I've learned from my mistakes:
Do not plant your bulbs too deep.

One third of the bulb like Amaryllis should be above the soil, but I also did the same for my Hyacinths.

For hardy spring bulbs - I plant them close together in the pot for show - but they also hold each other up.
For pots - I like clay pots - but anything you have will do, because then you can move your potted bulbs to a decorative pot.
If you don't like the look of soil - sphagnum moss - gives it an extra earthy look.

Bulbs for forcing:
Once you decide using spring bulbs for winter colour - look for the best bulbs, the firmest and biggest bulbs you can find. All hardy spring bulbs like tulips, daffodils, crocuses, grape hyacinths, snowdrops, iris and the tender bulbs like paper whites and freesia will force well.

I also only force the same bulb indoors once and then they will go outside and spend the rest of their lives outdoors with the exception of tender bulbs like Paperwhite, Amaryllis and Freesia. Freesia, Amaryllis and paperwhite bulbs, I can only grown them as house plants. Not hardy enough for our cold winters.

Tender bulbs - I bring them in the Fall - and let them all die back and let the soil dry-out.
I start growing my hardy and tender bulbs in the fall with fresh soil and the cycle begins again. I start fertilizing them when they start growing - about every two weeks with 20-20-20 NPK.

Potting up and best potting soil for forcing bulbs:
Most bulbs will required a good basic potting medium. Mix equal part of potting soil, peat moss, perlite and 1 part of coarse sand. I just bought a bag of potting soil from Costco this time and added some grit. Some of these bulbs will grow just in water, because the nutrition for the these plants comes from the bulb.

If you are planting for lots of colour:
Crowd the bulbs into the container, only leaving a little space between the bulbs. Plant the bulbs with a third of the bulb poking out of the soil to encourage fast growth. Tulips bulbs usually have one side less round side than the other. Place the less rounder side - of the tulip bulb on the edge of pot. That way the first leaf will grow out from the flatter side of the tulip bulb, when the flower stems will grow from the middle of the bulb and be bunched in the middle of the pot.

To get more of spring blooms in a pot, plant in layers.
Daffodils - place the bottom layer of daffodils into a 2 inch layer of potting mix, cover them and then place another row between the first row and cover them to their necks. Also you can layer daffodils, tulips and then smaller bulbs on top.

This is good method to try with any spring bulbs, but I think it works best with smaller bulbs. I am going to try this next year with crocuses. A pot full of crocuses for winter. :)

Cold treatment:
Most spring bulbs need at least 12 weeks of cold temperatures ( 30* - 50* F. ). Windowsills seems to work well enough from me, but we only keep our room temperature around 68* - 70*F. so, by the window is cool enough. Keep the bulbs moist during the cold treatment. Not wet - just moist and only water around the bulb or from the bottom up. I rotted many flowers by watering the buds. :)

Forcing Amaryllis:
This was not easy for me. My Mom's plants always have tons of blooms and I have leaves. This year it finally happened. Just like the other bulbs it likes the cold to force it to bloom and I think I was keeping mine too warm. A bright windowsill worked just fine.

If you are planting your own Amaryllis this year:
Soak your Amaryllis bulb in water before planting. It will give the Amaryllis a head start. Use a pot heavy enough that it won't tip over when the fleshy flower stalk elongates. Clay pots works well. Put soaked Amaryllis bulb in potting soil and cover the bulb 2/3 up the bulb and ending up with one third of bulb exposed above the soil. Firm the soil and soak the soil. Set the pot in a cool place ( 55* - 60*F.) You won't need to water again until the bulb starts to sprout in a week or two. Fertilize every couple of weeks - I use 20-20-20 - NPK.

One thing I haven't been able to do yet is having my Amaryllis bloom for Christmas. I started my bulb in October and it's blooming now - February 12.
Some people plant theirs in the middle of November and get it to bloom by December.
Mine is what they call - "a late bloomer". :)

Potted Amaryllis or any other spring bulbs make wonderful plant gifts. How to care for Amaryllis potted plant gifts.
You can buy spring bulbs online, Nurseries, Home Hardware, Homedepot and Lowes. I bought my spring flower bulbs on Sale at Homdepot.

Hope you try this, because a pop of colour in the middle of winter, it's definitely worth the trouble.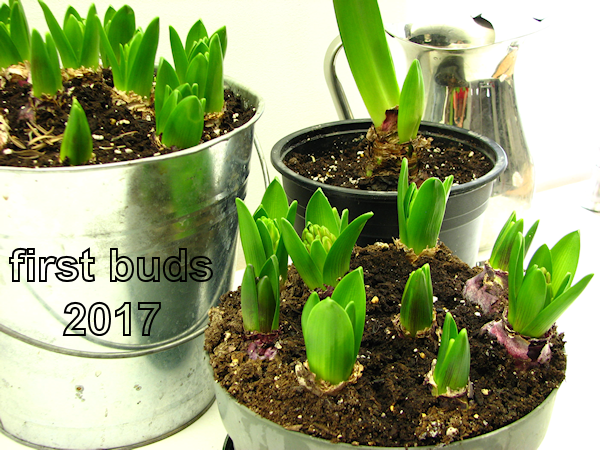 Gardening in the winter.
Forcing hardy and tender bulbs.
They are great as house plants or as gifts.
You can buy your bulbs online, nurseries, Homedepot and Lowes.
Even Costco sells them.
The trick is, go out shopping for bulbs when they are out and not procrastinate. Speaking from experience - here. :)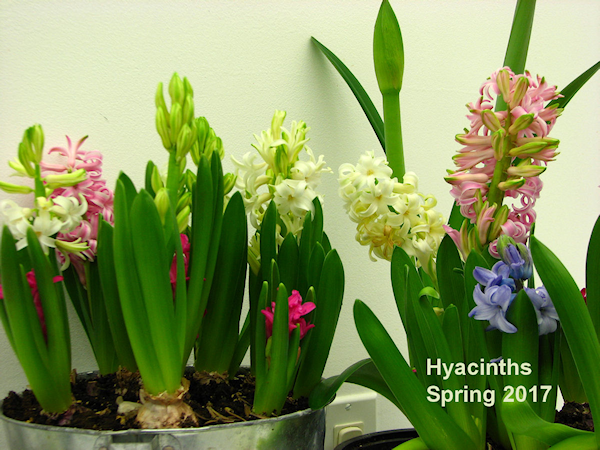 Forcing Hyacinths Bulbs indoors. Some of the bulbs have two blooming stalks.
I guess I'm getting a bonus. :)
I have also forced paperwhite bulbs and they are just as easy to make it bloom during the winter time.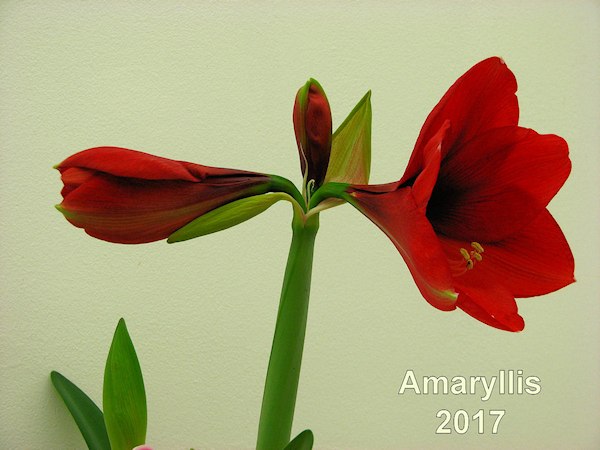 I was feeling pretty lucky to see one Amaryllis bud pooking up from the bulb and then it surprised me with another.
I hope my experience has inpired someone to give this a go.
Happy Gardening!
Now for some questions:
Just post on our Gardening Chat Forum if you have anymore questions and I'll do my best.


When should you force bulbs indoors?
I usually wait until I'm finished with garden outdoors and stores are selling the bulbs. Usually October or November.
Will forced bulbs bloom again?
Yes! Right now I have hyacinths waiting for the ground to thaw out. I started with new bulbs every year indoors.
Can you leave bulbs in pots all year round?
Yes! I do this with Amaryllis, because our winters are too cold. Other bulbs I plant them outside and start with fresh bulbs in the fall.