How to plant, grow & winterize Gladioli in Zone 6
Tips & Tricks for Success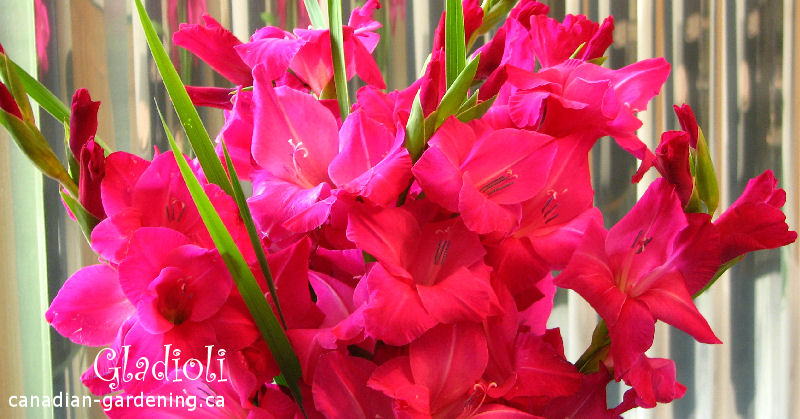 How to Plant, Grow and Winterize Gladioli:
The Gladioli that I have seen and bought are annual to Zone 6.
However, my friend grew Gladioli that came back every year in Michigan. I searched the Internet and someone was selling Gladioli that were hardy to zone3-9.
Gladioli - Tips and Tricks for Success:
That's what the instructions said. (smile)
It's easy to grow Gladioli. The hardest part for me is convincing the squirrels to leave me some.
Plant in spring after the last frost.
If you can't plant your Gladioli outside right away, store them in a cool, dry, dark location. I just put mine in moist soil and let it sprout indoors until it's time to plant outside.
Gladioli do best in loose, well drained soil.
You can also plant your corms at intervals of 2 weeks to extend the flowering period. Leave some corms in the fridge for an extra 2 weeks.
Plant the taller varieties out of the wind, due to their height.
Light:
Full Sun to Partial Shade
Depth:
13 cm - 5"
Spacing:
13-15 cm - 5-6"
Flowering Period:
Summer
Height:
90-125 cm - 36-50"
Planting:
Plant Gladioli with pointy end up in a sunny to semi-shaded area.
Plant 13cm (5 inches) deep and 13 to 15cm (5-6 inches) apart.
Water thoroughly after planting.
Gladioli are very easy to grow and do not need much fertilizer.

Growing:
Plant Gladioli at biweekly intervals for continuous colour.
Gladioli will bloom in 60-80 days.
Shelter from stron winds.
Gladioli will bloom from the bottom up and will last about 2 weeks.
Stake Taller Varieties.

Winterizing:
Most Gladiolus are annuals in Zone6.
After the first frost, dig up the corms, cut off the tops.
Do not wash the corms, but let them dry for 2 - 3 weeks.
Pull off the new Corm from the useless old Corm at the base.
Rub off the dry soil and collect the small Cormels clustered around the base of the new Gladioli Corms.
Place your dry Corms and Cormels in a paper bag.
Store Corms and Cormels in a dark and cool location for next year.
Cormels may be grown in a nursery bed or vegetable bed in the spring until they mature to Corms, takes 2-3 years.
Flower Gardening
Annuals - Perennials
Canadian Gardening
Table of contents