Growing Biennial Hollyhocks
in Canada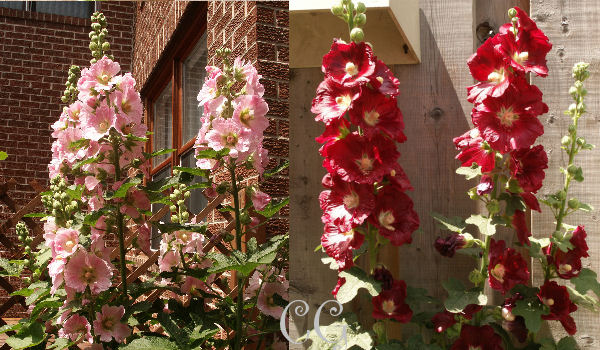 Growing Hollyhocks in Canada Zone3-8 :
Gardeners are always looking for vertical height in their garden. We either use hardscaping or plants. I use whatever I can find, but mostly flowers, plants, trellises or trees. I have been growing Hollyhocks for years, but lately I'm struggling with Hollyhock Weevil Beetle and Rust. However, I hear there's rust resistant Hollyhocks available. Check the seedpacket before you buy. :)
Hollyhocks prefer well drained, moist soil and full sun.
Hollyhock Black Weevil Beetle:
I start in early spring cultivating the area around the Hollyhocks, add some compost and spray with garlic spray and oil to deter the Hollyhock's Weevils.
If I get desperate I use store bought insect spray or just handpick them.
For Rust on the leaves:
I just spray the leaves with baking soda and water. 1 litre of water and 1 tablespoon baking soda.
Will Hollyhocks come back next year?
Hollyhocks is a hardy Biennial plant in Zone6. They will grow a rosette of leaves the first year and bloom the second year. However, in my Zone Hollyhocks behaves like a perennial with lots of seedlings every where and the cycle continues the next year. In the fall I cut the dry stalks back and mulch well. You will get more flowers with new plants every year. Nature will do the sowing for you and it's always right.
Growing Hollyhocks from Seed?
I only grow Hollyhocks from Seed. They self-seed for me as well, but I save seeds from my favourites, before they drop seeds everywhere.
What time of the year do you plant Hollyhocks?
I like to transplant or plant Hollyhocks in the spring.
A large of clump of Hollyhocks in the garden is great for Wildlife. Hummingbirds, Dragonflies and Butterflies love them.

Grow Flowers || Perennial Gardening || What's Blooming this Month || Garden Content

Growing Flowers
Table of Contents