Why can't I grow Radishes?
That's what I ask myself every spring. :)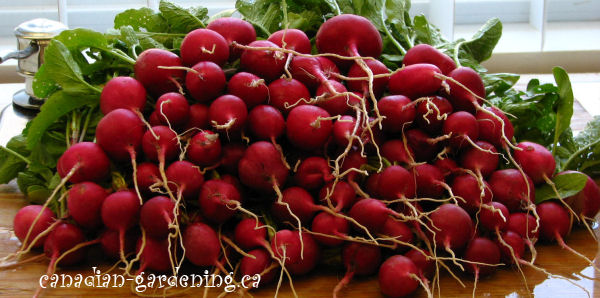 How to grow Radishes in Zone6?
Are Radishes easy to grow?
Yes. If they are grown in good conditions and you like watering.
I used to grow Radishes with my kids, because they only take 3-10 days to germinate.
Some years growing radishes it's a "hit and miss" for me as well. I get a lot of leaves and a few bulbs. I guess it gets too hot in the spring. I have better luck with a fall crop.
Harvesting:
Only 25 - 30 days

Planting
Grow
Cultivation
1. 1 - 2 inches between plants

2. 1 - 2 feet between rows

3. Sow Seeds 1/2 - 3/4" deep

4. Sow seeds outdoors as soon as your soil can be worked on.

5. Germination takes: 3 - 10 days

6. Harvest: 25 - 30 days.
1. Sow crops every 2 weeks until mid spring.

2. Then again in late summer for fall crops.

1. Likes Sandy Loamy, moist, but well drained soil, rich in organic matter.

2. Balanced Vegetable fertilizer - high in phosphorus - low in Nitrogen

3. Full sun to partial shade.

4. PH - 5.5 - 6.8

5. Grows best in cool conditions. Cool early crop.
Do you soak Radish seeds?
If the soil is moist - No. I don't soak them.
If the soil is dry - Yes - sometimes if I think of it.

Why can't I grow Radishes?
Why won't my Radishes bulb up?
Check your soil and add plenty of compost and keep the radishes watered. Cool conditions helps.
Why do Radishes Bolt?
With me it's mostly the heat.
As soon as it gets hot, Radishes will go to seed. You can eat the tender seedpods or use them in salads. They're tasty treats when I go to the garden. They rarely make it to the house. I also dry and save the seedpods for next year's seeds.
Why is my Radishes roots/bulbs hard?
I find if the Radishes are over grown, they will be woody or if they don't get enough water.
What can you interplant with Radishes?
I sow carrots with Radishes, because the Radishes will be ready to harvest in 25- 30 days.
Carrots takes forever to germinate like - 15 - 20- days.
Onions and Parsnips with Radishes as well.

https://dpi.wi.gov/sites/default/files/imce/school-nutrition/pdf/fact-sheet-radish.pdf - ( Fact Sheet on Radishes )
Radish Fact Sheet download at https://dpi.wi.gov/
Growing Food at Canadian-Gardening
How to Grow Food:
Table of Contents