Staying Healthy before
gardening season starts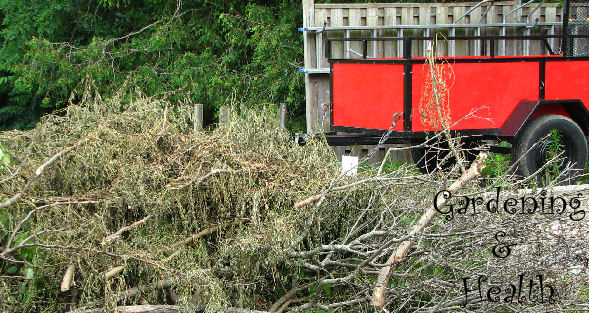 Health Benefits of Gardening:
I will speak from my own experience. Lots of information on the web already.
Even though I try to stay busy during the winter months, the first week of spring gardening comes with some muscle tenderness, but it's gone the next morning.
Is it worth it getting ready for spring gardening?
Yes! Even though most people think of gardening being a low impact form exercise, but some days they are not.
It will depend what type of gardening you are doing for that day.
If you are pulling a dead tree trunk out - that turns out to be a day that you need a hot bath afterwards.
Pulling weeds is good exercise. How many people want to be indoors touch their toes 100 times or more a day. That's what I do when I'm weeding. I do have raised beds, but there's still bending, stretching and pulling.

Exercise all year to get ready for gardening season:
I don't call it exercise, I call it staying active.
Going for a walks and spring cleanning during the winter works for me.
During the growing season keeping up with the laundry and cooking are more than enough. Cleanning come last, but I can give the whole house a good clean during the winter.
The benefits of gardening:
They are so many and because I love gardening, I don't even think of the benefits.
I start my day with a cup in hand and walk around my garden.
It's quite and peaceful and it grounds me.

Can you lose weight while gardening?
Some years I don't lose any weight, but by fall my body is a different shape. Clothes fit better and my whole body feels stronger.
Withouth even thinking about it, I feel healthier.
I think if you take up gardening to just lose weight, I don't think it will work.
Gardening and Health is so gradual that if you just want to lose weight, most people will just quit gardening before they can see and feel the benefits.
If people just garden, they will eat healthy, get fresh air, relax and enjoy the beauty that a garden can give with good food, sound, colours, fragrance and beauty.
Exercise
Listen to your body when it comes to gardening.
Stop before you get too tired. Hydrate and sit and enjoy your accomplishements for that day.
Even if it isn't as much as you wanted, tomorrow is another day and today you already have more done than you had yesterday. Enjoy your garden!
Canadian Gardening Links
Table of Contents