How to grow Buttercups Ranunculus in Zone 6
6 Tips for Success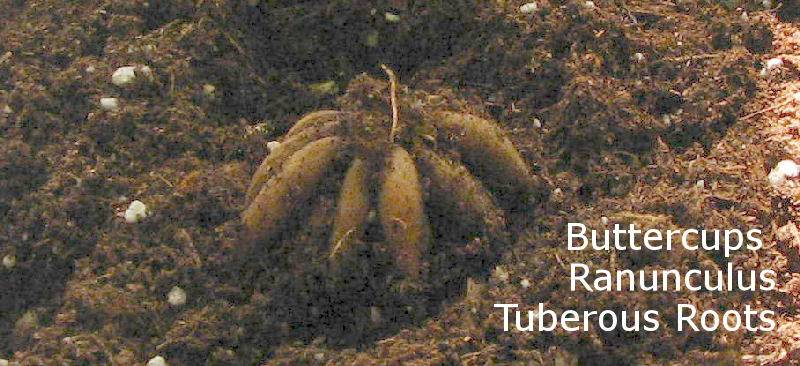 I had to check this, because this is the Internet.
According to Rodale's Illustrated Encyclopedia of Gardening, Ranunculus is a Tuberous Root just like a Dahlia. When you compare a Ranunculus Tuber with a Dahlia Tuber, you can see the similarities.
When to plant outdoors?
Plant outside when the danger of frost is over. For me it's at the end of May.
Or start your Ranunculus indoors and plant them outside when it's warm enough. The package suggests starting indoors a month before your last frost date.

Planting Tips:
Plant in groups of 10 or more . The packages that I bought have 7 in each. They were suppose to have 8.
Soak your Ranunculus Tuberous Roots in cold water for several hours before planting them.
Dig a hole in fertile soil - about 2 inches - 5 cm deep, add compost to hole as well.
Place the Ranunculus in the hole with pointed side up.
Space Ranunculus 3 Inches - 7.5 cm apart.
Cover with soil and water thoroughly.
Location:
Full Sun or Semi/Shade
Depth:
2 inch - 5 cm
Distance apart:
3 inch - 7.5 cm
Flowering Period:
July to September
Height:
16 inch - 40 cm
Cultural Information:
Ranunculus - Buttercups - is an excellent plant for borders and containers.
Ranunculus Flowers make good cut flowers with their long vase life.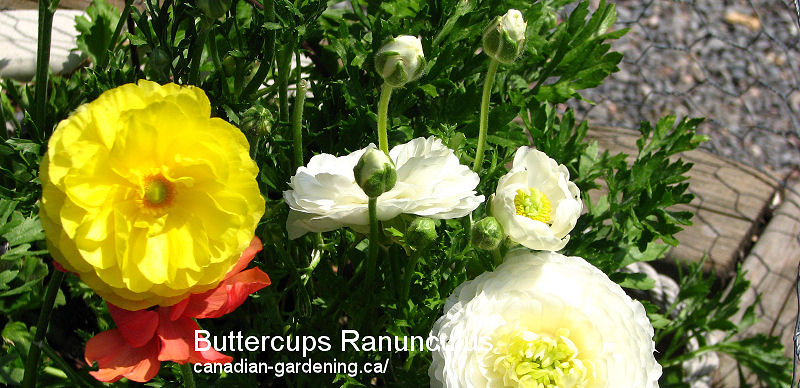 Flower Gardening
Liatris - Perennial